After a decade of moving between countries, I'm finally in a space with all my "stuff".  The photos and journals that collected at my parents house are now with me.  After ten years, I took a look at the words I wrote and images I captured on nine eleven and the days following.
From Wednesday, September 12, 2001 (in Japan)
In the past two weeks, I have become aware of my "American-ness".  Was I aware before?  To a lesser degree maybe.  But being "the foreigner" I have to come to accept that term as part of my self-definition.  It has served now, today, to raise my sense of patriotic pride.  Was that there before?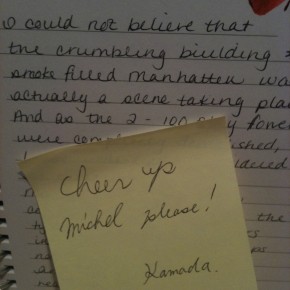 Last night as I watched two airplanes crash into the World Trade Center and one into the Pentagon, I thought I was watching a movie.  I didn't understand the Japanese announcers words and kept asking my friends for clarification on whether there were actually two towers to begin with.  I could not process the crumbling buildings and smoke-filled Manhattan as a scene that was actually taking place.
My generation has been sheltered from this type of violence to a point of callousness – until now.  Replaces by a new realization that "yes, this can happen to us".  We can no longer think ourselves invulnerable.
Today, I'm at school.  Watching the students prepare for Sports Day – a event marking the beginning of the school year and dedicated to team building among classmates.  Words of "ganbatte" and victory are painted on the school windows and class flags.  I'm watching the preparation from the teachers lounge with the TV on in the background.
I can't take my eyes off the American flag waving in the background, a block away.  The flag, a decoration, from a vintage clothing store called Amerika-mura.
The local newspaper called my school asking for my comments.  But I can't find my own words much less speak on behalf of anyone else.  To be experiencing this day from afar, from Japan – a country who knows too well this type of scene – is surreal.  I'm confused on how to feel and can only take solace in the images and words around me.
I've spent much of this past decade outside the U.S.  By being away, I missed a lot of immediate reactions of Americans and the swell of pride.  Three short years later, I remember sitting in a Starbucks in London overhearing a conversation on the hatred of America.  How quickly the pendulum swings.
It's easy to get caught up in the politics, the economics, and diplomacy of American policy.  None of those were relevant in the immediate moments and the immediate narratives from nine eleven.  With the state of American policy today, we need a moment in which to feel that pride.  Today, offers a moment for reflection.